This is a list of prominent crew members who were involved in the making of Until Dawn.
Director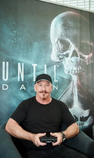 Will Byles is a writer and director in games and film. He is part of the Studio Supermassive Games and the Executive Creative Director of Until Dawn.
Producers
Until Dawn has three main producers: Jacob Jaffke, Peter Phok, and Stephen Goss. Writer and producer Pete Samuels was the executive producer, and Victoria Miller was the associate producer for Until Dawn.
Writers
Larry Fessenden and Graham Reznick are the two script-writers for Until Dawn.
Sound
Jason Graves is an American television, film, and video game music composer. His works include the musical scores for Dead Space, Alpha Protocol, Tomb Raider, The Order: 1886, Until Dawn, Evolve and Far Cry Primal.
External Links
Click here for a full list of credits.
Ad blocker interference detected!
Wikia is a free-to-use site that makes money from advertising. We have a modified experience for viewers using ad blockers

Wikia is not accessible if you've made further modifications. Remove the custom ad blocker rule(s) and the page will load as expected.