The Score is the fifth segment featured in Until Dawn's Bonus Content. The segment is about sound production and how music has been used throughout the development of Until Dawn. Composer Jason Graves talks about the process of composing the score.[1]
Preview
Graves explains how he got involved with Supermassive Games and the production and Until Dawn itself. Regarding the game's main theme, he elaborates that it establishes the mood, atmosphere and character of the music and how it's going to be playing in the background. He describes his passion for horror-themed music as sounds that know no rules, something that really attracted him to composing the audio for Until Dawn.
Video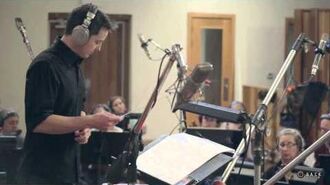 References
Ad blocker interference detected!
Wikia is a free-to-use site that makes money from advertising. We have a modified experience for viewers using ad blockers

Wikia is not accessible if you've made further modifications. Remove the custom ad blocker rule(s) and the page will load as expected.