Making a Scene is the second feature segment part of Until Dawn's Bonus Content. The video shows Behind the Scenes footage of the game's production design, where it goes in depth about bringing the visualization of locations and characters to life.
Preview
The segment features Production Designer Lee Robinson elaborating on the production of Until Dawn. He explains that the production design started with a script describing Until Dawn's contemporary setting, inspired by classic horror films. The script is vital to the production designer for it to be converted into an idea in mind, and later, a visual reality. The development for key locations as the Washington Estate and Cable Car Station started from there. Much like the locations, the characters were too developed with a strong visual identity in mind, with contrasting colors, tones and silhouettes to identify them. The look and feel of the world was totally completed with the development of its atmospheric lighting, once again inspired by classic teen horror.
Video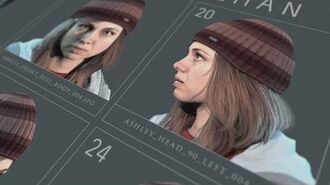 Ad blocker interference detected!
Wikia is a free-to-use site that makes money from advertising. We have a modified experience for viewers using ad blockers

Wikia is not accessible if you've made further modifications. Remove the custom ad blocker rule(s) and the page will load as expected.